It's been a crazy two weeks at our house. We've been busy hosting Fernando's family. Over my birthday weekend, Ferd's brother Carlos and wife, Darlyn flew in from Pennsylvania along with his sisters Carolina and Gloria (Massachusetts & California). It was their first time meeting the babies and they got plenty of quality baby time. (I was relieved to have some extra hands). The weather was pretty terrible and rainy while they were here so we didn't get out much, but we did manage to briefly do the rodeo. We got standing room tickets at the door (it was so crowded due to spring break). After checking out the petting zoo, I desperately needed to nurse the babies so we sat way up high in the nose bleed section in somebody else's seats, hoping they wouldn't show up. We arrived so late we only got to see the calf scramble. Note to self next year if we go, it is way too loud for babies. Just as I finished the people came and kicked us out. Instead we walked around the carnival and ate some great fried food. This years goodies: deep fried Snickers and deep fried Red Velvet cake. The verdict on the cake: so good! The Snickers was pretty good as well.
Next up, Fernando's brother Mike and wife Jessica drove in from Chicago with their kiddos to stay for the weekend. We walked around the park. Right now Hermann Park is featuring Chinese Zodiac animal heads from now until June. They're pretty cool.
We decided to hit up Hermann Park and the rodeo again. The rodeo on a Saturday during spring break is not a good idea. We got separated and didn't find them until a few hours later when we wanted to leave. But I did get one picture of everybody together: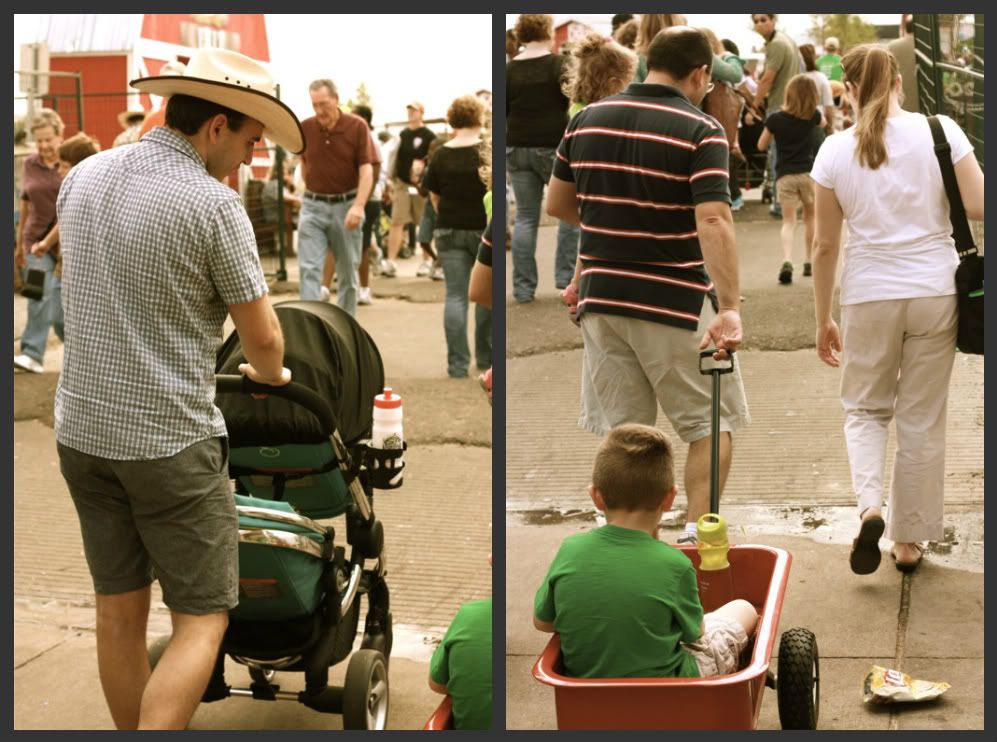 We of course had to get our favorite food item at the rodeo: the Cowboy Burrito.
Great grandma Gloria has been staying with us for the last six days. The babies are going to wonder what happened when everybody goes home and they are no longer being held all the time. She helped me cook batches and batches of homemade baby food. Now our freezer is ready for when they turn six months!
Here are the babies monthly onesie picture (taken late as usual).
Lucy rolls over like a mad woman. But only one way. Its so frustrating. Now I have to pin her down on her belly until she falls asleep. Gone are the days when I could lay her in her crib awake and walk away. She's also starting to sit up by herself. Evan continues to be the most easy going child ever, although he can cause some trouble if left alone…